Design Tips for Sanibel Living Today!
February 28, 2018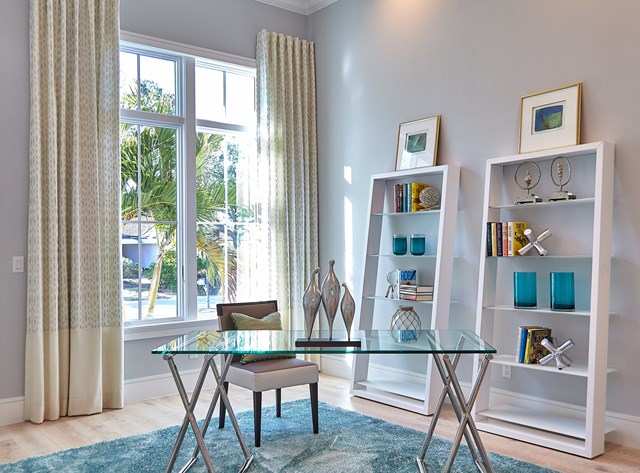 By: Linda Serre, Interior Designer at Robb & Stucky
For a coastal style, it's best to avoid heavy dark woods as they can make a space seem gloomy and heavy. If you do incorporate a dark wood item, be sure to use only minimal pieces.
A must-do for Florida living, especially on the islands, is to protect your furnishings with window treatments from the harsh impact of Southwest Florida's best friend… the sun! Light sheer window panels always give off a calming and breezy style and are a chic way to treat windows. Plus, there are so many textures to choose from for sheer panels.
For seaside living, it's important to incorporate the colors that surrounding you and bring them inside of your home. Prominent colors include ocean blues, Caribbean sea colors, and neutrals like sand or whites. For your furnishings, try glass and light driftwood colors. Then toss in items that have a beautiful pop of coral or periwinkle to brighten the space. Consider using light, calming colors. A good go-to is a neutral backdrop with accents of island colors.
A chic way to display coastal style is to add a piece or pieces of coral décor into your space. Coral pieces comes in a range of colors including neutrals, blues, green, and coral pink. For instance, to accent a cocktail table you could have a large piece of wavy glass with an assortment of coral on top or surrounding.
When it comes to furniture, make sure you find something that is both stylish and functional. Acrylics are a wonderful way to add a light and airy feel to any space. They are very clean and sleek. Don't be afraid of neutral and white sofas or chairs. At Robb & Stucky, we offer an array of user-friendly fabrics so you can still furnish your home with whites, creams, pale taupes, and sand colors without the worry of stains or marks. Another staple is functional furniture with versatility such as small or hidden casters, cocktail tables, and ottomans. An area rug can really enhance a room's style. Robb & Stucky offers a fabulous selection of rugs for both indoor and outdoor use. For example, if you have a whole room in white and sand neutral colors, add a colorful rug for a nice 'pop'.
All images provided are from the Bob White Lane Residential Design by Interior Designer Susan Bleda.
ABOUT LINDA SERRE
Linda Serre has decades of design experience, including the last twenty-four years as president of a full service interior design firm in Michigan. Her experience spans a broad range of projects and consulting from redesigning a small room, to large executive homes, to new construction - no job is too big or small! She has designed residential and commercial projects throughout the upper Midwest and Ontario, as well as Florida. Her design abilities span a wide range of styles, from timeless, contemporary and traditional, to metropolitan, urban, coastal and eclectic - Linda enjoys it all. We know you will like Linda's serene presence and positive energy as much as we do.
Start your design journey with her today!
Contact Linda by phone (239) 415-2810 or email
lserre@robbstuckyintl.com
.