Staying Positive Under Pressure
October 19, 2017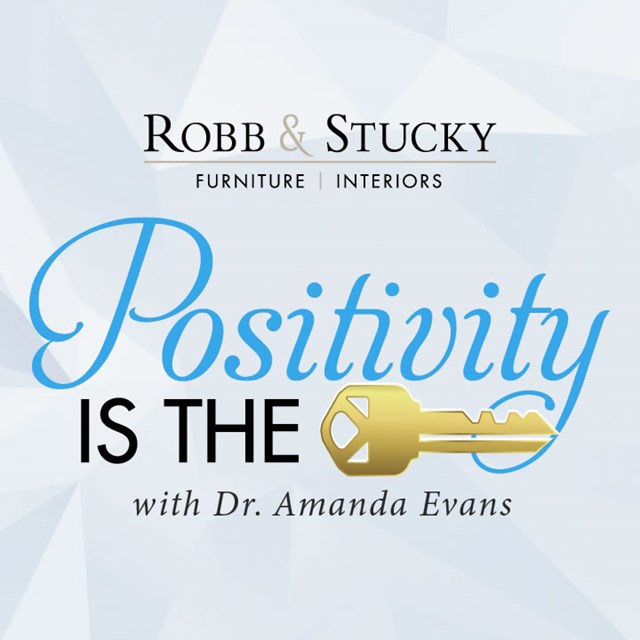 Life is busy. Work, home, gym, bills, etc., there are a lot of things that can bring stress into our lives. However, if you keep the right mind set it is possible to
'stay positive under pressure'.
That's exactly what Dr. Amanda Evans, a professor at Florida Gulf Coast University with a background in Sociology, spoke about to a group of realtors and industry professionals. It was a part of our free "Positivity is the Key" seminar supporting Laces of Love and hosted at Robb & Stucky's Fort Myers Showroom.
First of all, Dr. Evans pointed out that stress is both good and bad. The good side is that stress serves as a key for survival that helps alert our body of any dangers. However, when it lingers too long and we don't let the stress go, that's when it can be detrimental.
So, where does stress come from? Turns out, the primal part of our brain sends a signal to release a fluid of neurochemicals that tell us to either run or fight. When we survive that stress, our brain is designed to return to a state of calm. The problem is we have trouble letting go of that stress and instead it lingers, which can cause more stress emotionally and physically.
To conquer your stress, Dr. Evans shared her top tips to 'Stay Positive Under Pressure":1) Stay Connected!
When under stress don't isolate yourself. Reach out to family, friends, and co-workers to help you de-stress.
2) Focus on what you have control over AND let go of the things you can't control!
Don't waste your energy on the small things.
3) Give yourself an attitude check.
Laugh at things that don't really matter. Make yourself challenge your thoughts.
4) Go out and smell the roses.
Under stress our brain looks for signals of safety. Pay attention to your senses and get out of your head. Instead, surround yourself with things that bring you peace and joy like music, flowers, nature, etc.
5) Plan for stress and keep perspective. BONUS tip: If you do nothing else, remember to breathe deeply (and maybe try a little yoga).
Thank you to our event sponsors for their support: Marketplace Home Mortgage, Home Team Inspection Services, Allure Luxury Condominiums, State Insurance, North American Title, iMold, Jason's Deli, Grimaldi's Pizzeria, Venetian Pointe, and Outback Steakhouse.
About Laces of Love

The seminar not only provided a platform to conquer our stress, but also served as a fundraiser for Laces of Love. Laces of Love Founder, Susy Warrner, says they are "thrilled to be a part of the event" at Robb & Stucky. Laces of Love provides new shoes to low income and disadvantaged children in Collier and Lee Counties in Florida. This year, the non-profit has already donated almost 14,000 shoes to children in need, with nearly 3,000 following Hurricane Irma. Laces of Love is a 100% volunteer organization, with all donations going directly to new shoes for needy kids. Find out more about them at
www.lacesoflove.org
.
About Event Speaker Dr. Amanda Evans
Dr. Amanda Evans is a professor at FGCU with a background in Sociology. She travels to Germany, England, the Caribbean and Guyana motivating and counseling people on various issues.
About Robb & Stucky
Robb & Stucky is a luxury home furnishings retailer that also offers professional interior design services. The retailer carries a variety of top names in the home furnishings industry, including Bernhardt, Century, Christopher Guy, Gloster, Mitchell Gold + Bob Williams, Lloyd Flanders, Stanley, Vanguard and W. Schillig. The founding company was established in 1915 by Virgil Robb and W.R. Lee. Harry Stucky joined the business in 1917 and the name formally became Robb & Stucky in 1925.
In 2011, a new Robb & Stucky was formed when the family of Samuel Kuo, founder and CEO of Samson Holding Ltd. purchased the brand and intellectual properties. With new executive leadership, the revitalized brand opened its first showroom in 2012 in Fort Myers. Today, Robb & Stucky has store locations in Naples, Fort Myers, Sarasota, Coral Gables, and recently opened in Boca Raton.