---
Palma Bench
132-1185-010-00
zoom_out_map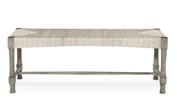 132-1185-010-00
The unique woven abaca seat in light gray wash finish instantly gives the Palma Bench a modern beach house vibe. With organic esthetics, the solid oak frame and stretchers in rustic gray finish completes this beautiful bench. This piece would go perfectly in a coastal inspired bedroom.
THE INTERIORS COLLECTION
Art expresses feeling and thought, without a word spoken. As does artful furniture. It is our pleasure to design and craft artful furniture, through which people may express themselves in their homes. Consider this your own architectural wardrobe elegant, varied, and easy to live with.
Related Items
---