---
Silvius Cocktail Table
162-1185-190-00
zoom_out_map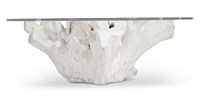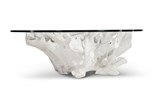 162-1185-190-00
The nature inspired Silvius Cocktail Table features a cast tree-stump base in a white finish and a 48 inch tempered star fire glass top with eased edge. A natural beauty!
THE INTERIORS COLLECTION
Art expresses feeling and thought, without a word spoken. As does artful furniture. It is our pleasure to design and craft artful furniture, through which people may express themselves in their homes. Consider this your own architectural wardrobe elegant, varied, and easy to live with.
Related Items
---