---
Arctic Square Dining Table with Glass Top
102-1185-120-00
zoom_out_map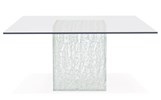 102-1185-120-00
The Arctic Square Dining Table features an acrylic dining base with cast wood grain pattern, bringing a cool new twist to your modernized dining space. The look is completed with a 60" glass top with rounded corners and polished edges.
THE INTERIORS COLLECTION
Art expresses feeling and thought, without a word spoken. As does artful furniture. It is our pleasure to design and craft artful furniture, through which people may express themselves in their homes. Consider this your own architectural wardrobe elegant, varied, and easy to live with.
Related Items
---