---
Owen King Canopy Bed
112-1185-180-00
zoom_out_map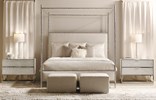 112-1185-180-00
The Owen King Canopy Bed features a hammered textured polished Stainless Steel canopy bed frame in a nickel finish. The headboard, footboard, and side rails support an inset upholstered panel dressed in a performance fabric for cleanability and durability.
THE INTERIORS COLLECTION
Art expresses feeling and thought, without a word spoken. As does artful furniture. It is our pleasure to design and craft artful furniture, through which people may express themselves in their homes. Consider this your own architectural wardrobe elegant, varied, and easy to live with.
Related Items
---